Attention All Bible Readers And Teachers!
"Read Your Bible And Instantly See What Is Lost In Translation Without Knowing Any Greek Or Hebrew…"
"Read Your Bible And Instantly
See What Is Lost In Translation…"
"Read Your Bible
And Instantly
See What Is Lost
In Translation…"
(Without Knowing Any Greek Or Hebrew!)
You Don't Need Years Of Education To Use Greek And Hebrew In Your Bible Reading
Join thousands of Bible readers who don't know Greek and Hebrew, yet use The Discovery Bible to apply these languages to their Bible reading in a practical way.
10,000+ Greek & Hebrew Insights Highlighted
7,000+ Pages of Devotional Definitions
100,000 Study Bibles sold with Moody (now out of print)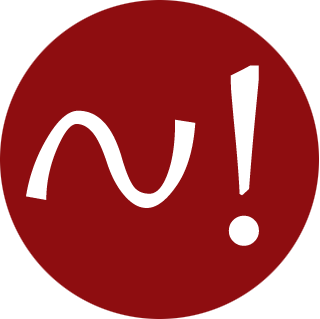 ---
What Does The Discovery Bible Software Do…?
How Is It Possible To See What Is Lost In Translation From Greek And Hebrew If I Don't Know These Languages?
1. Choose Any Scripture
It all starts with God's Word. Take it in at your current level and then move deeper in steps 2 and 3.
2. Click Anything With Color
See What's Lost In Translation. Everything in red points you to something that Greek and Hebrew add to your reading experience.
3. Apply The Explanation
Start General, Then Get Specific. After you understand the concept you clicked, apply it in your chosen verse.
4. That's all! Now repeat.
You just read the Bible using its original languages. This gives a deeper and more accurate reading experience.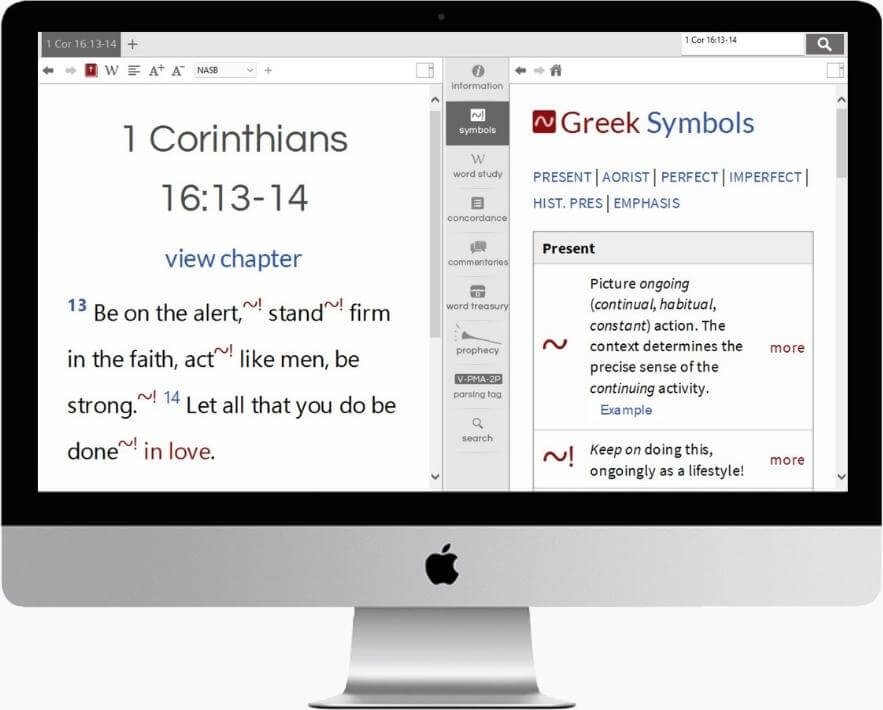 The Discovery Bible Software Uses Color Highlights And Symbols To Uncover More Meaning On An English Bible
Yes, The Discovery Bible was created so that all Bible readers like you, who don't necessarily know Greek and Hebrew, can have these languages impact your understanding and help you read the Bible more deeply.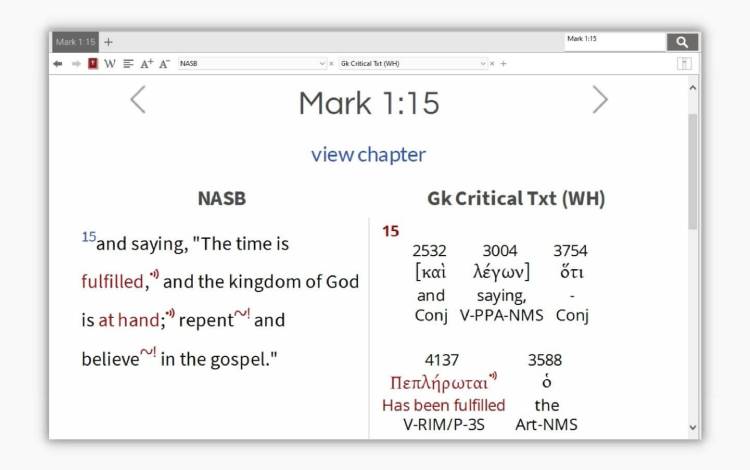 No Payment Details Required – Start Reading Now!
Start Reading Now!
The Discovery Bible Is Perfect For…
Those Who Don't Know Greek And Hebrew
Anything Related To Bible Reading
Discovery Bible Software Gives You The Most Important Tools To Stay Bible Centered
Yes, Discovery Bible Software keeps you from getting lost in a library of commentaries and helps you apply God's word the way it was written.
Understand Important Definitions
Picture What The Author Wrote
​See What Is Lost In Translation
​Deepen Your Reading Experience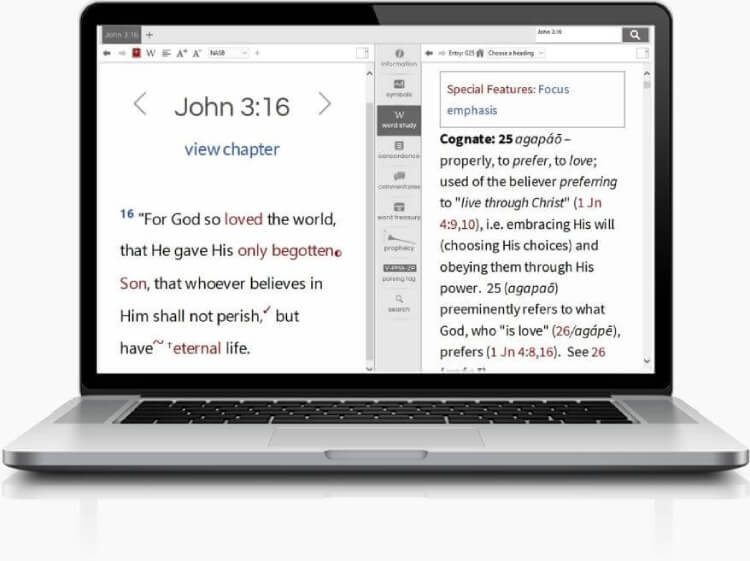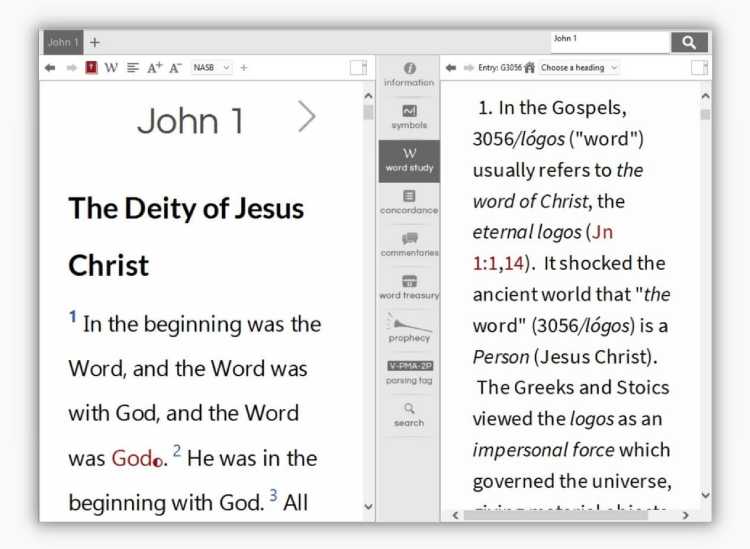 Confidently Apply The Meanings Of Bible Words
The Discovery Bible Software features an exclusive 7,000+ page devotional lexicon that draws our original meaning of Greek and Hebrew words. With over 1,000 different references quoted throughout, these Devotional Definitions are a resource you can trust.
See (Literally) What The Original Author Is Saying
The original authors of the Bible would use the grammar of Greek and Hebrew to prompt their readers to see actions a certain way. Picture Prompts in The Discovery Bible Software mark off 1000s of these nuances with easily remembered symbols.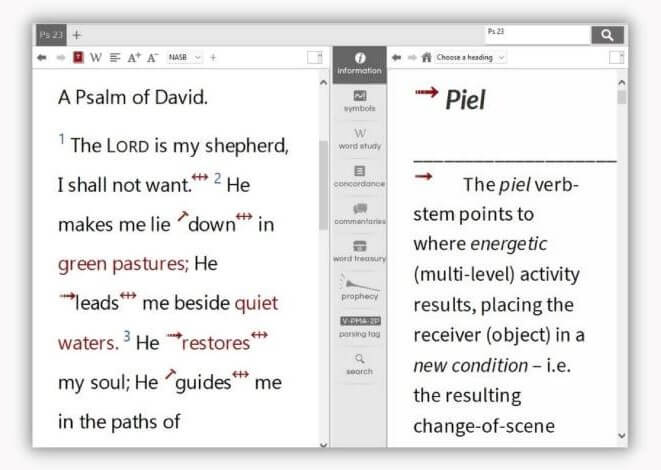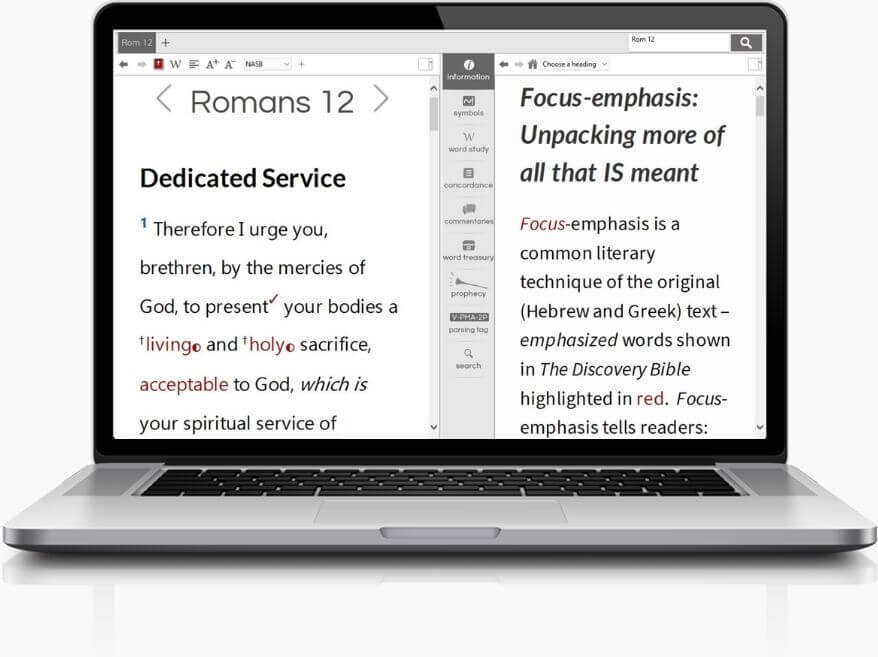 Draw Your Eye To The Focus Of Each Verse By Seeing Which Words Are Emphasized
The Discovery Bible Software highlights emphatic words with red writing, enabling you to see what the focus of the passage is. It took a long time, but Dr. Gary Hill, with the help of Dr. Gleason Archer, went over every word in the Bible numerous times and manually highlighted this so you don't have to.
Watch The John 3:16 Demo: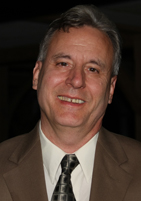 "After almost 50 years of working on this project I'm grateful to God for all those he has sent to make it possible. Dr. Archer for being my mentor and teaching me Greek and Hebrew grammar. Moody Publishers for connecting me with our endorsers and publishing the first Discovery Bible in 1987, and dozens of others who have made this possible. We now have a tool that makes what once was difficult and confusing, accessible to everyone." Gary Hill – Chief Editor
---
Why Use The Discovery Bible?
It Is Possible To See What Is Lost In Translation From Greek And Hebrew Even If You Don't Know These Languages!
Something is always lost when translating the Bible to English
The Discovery Bible Solves This Problem By Showing You Where This Happens
The New Testament was written in Koine Greek and the Old Testament was written in Biblical Hebrew (and a little bit of Aramaic).

When you translate from complex languages like Greek and Hebrew to English, details are always going to be lost. The English version you read today gives you just one possibility of what the text says.

That's why we have so many different English versions (NIV, NLT, KJV, NASB, etc.) and while there are many great translations out there, none of them are perfect.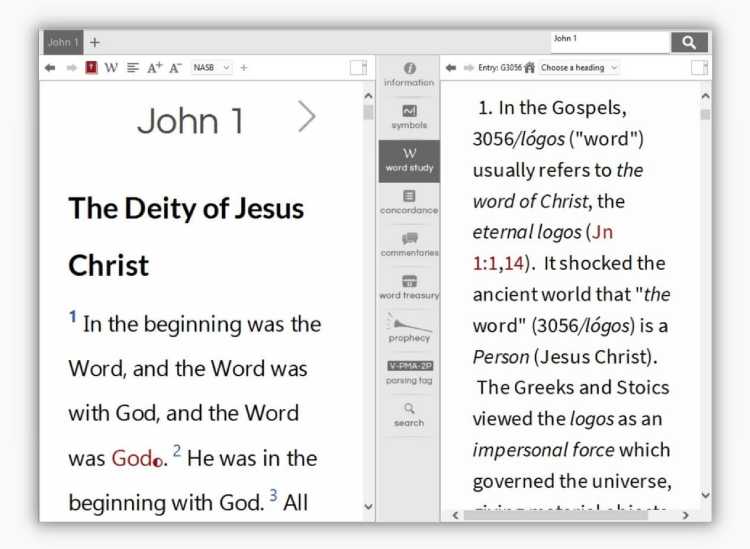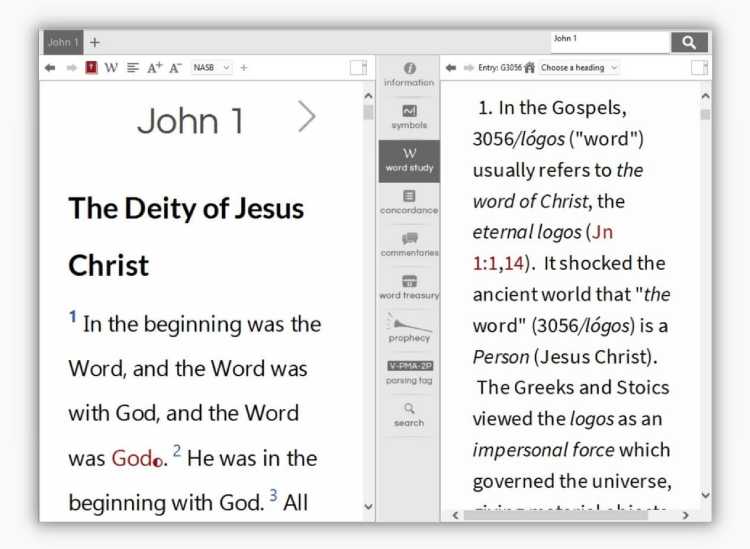 The Discovery Bible enhances English Bible versions so you can cut through the clutter and start seeing how Greek and Hebrew have an impact on everything from devotional Bible reading to sermon preparation.
The biblical languages are not just for pastors or seminary students
So many people switch off when they hear the words "Greek" and "Hebrew".

But it doesn't need to be this way!

There is wonderful richness to be found when you know how these languages communicate and can apply it in your Bible reading.

Even if you've never seen a Greek or Hebrew letter, The Discovery Bible makes this wonderful richness available to you on an English Bible. Now you don't need a degree to make the Bible's original languages meaningful to you.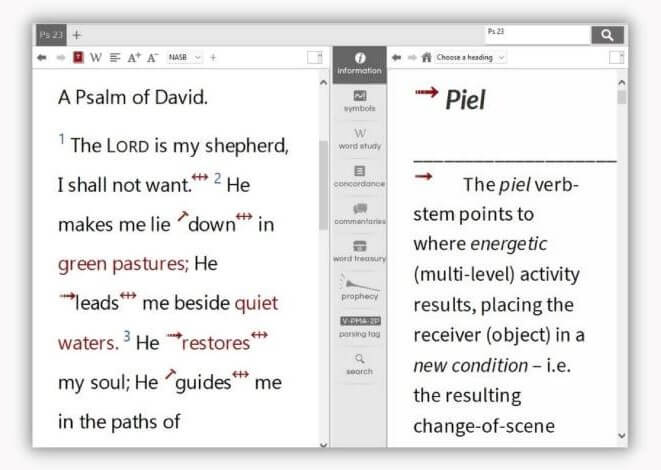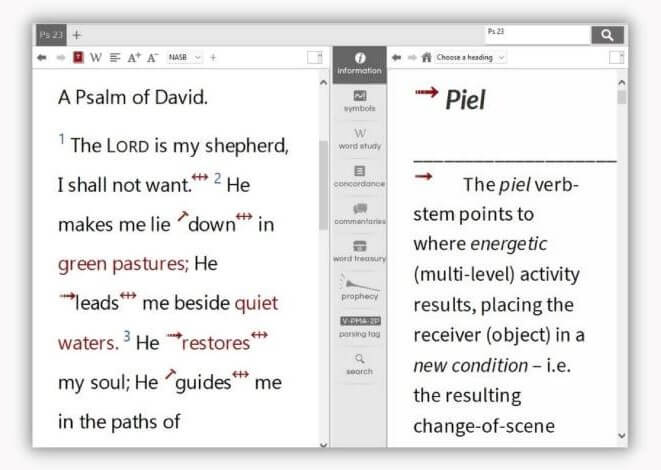 God Used Greek And Hebrew For A Reason
Greek and Hebrew communicate in very specific ways. They bring a special kind of depth and specificity to God's Word in ways English cannot.

That is why God chose these languages, but of course, when you translate them into English, you lose a lot of the benefits.

Many of the English version are wonderful to read. God still speaks and there is still huge blessing experienced every day by people who just read an English translation.

However…

For those who want to take things a step deeper, they can easily take advantage of Greek and Hebrew using The Discovery Bible.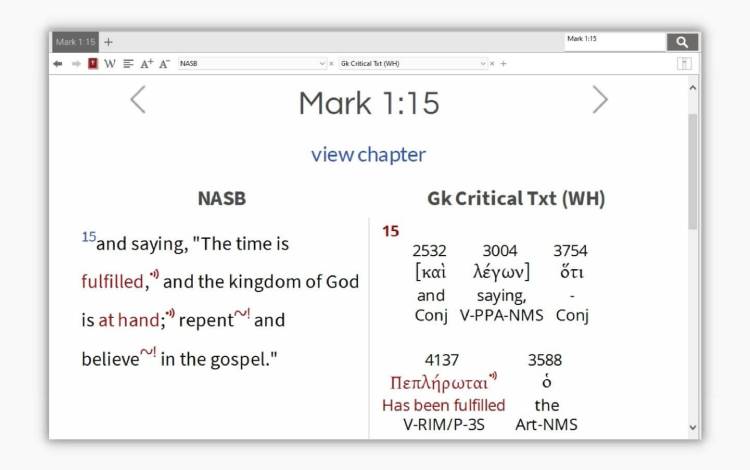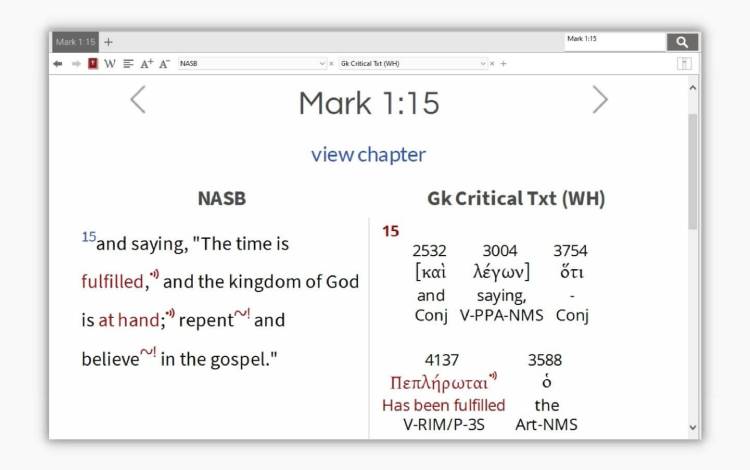 Do You See Why So Many People Just Like You Are
Reading With The Discovery Bible?
Do You See Why So Many People Just Like You Are Reading With The Discovery Bible?
Xerxes Duane
Bible Student – Philippines
Tom & Vicky Mahairas
Citivision
Cherry Bagayna
Bible Reader – Philippines
Barney Lau
Pastor – Singapore
Neal Letteney
Bible Teacher- USA
James Adika
Pastor – Kenya
Anthony Trinidad
Bible Teacher – Philippines
That Is Why So Many
Scholars Endorse The Discovery Bible
That Is Why So Many Scholars Endorse The Discovery Bible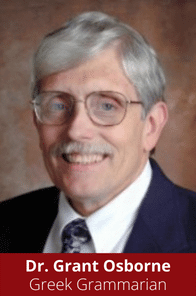 Dr. Grant Osborne – Former professor of New Testament, Trinity Evangelical Divinity School.
"The Discovery Bible helps the person who has not been able to study Greek or Hebrew in-depth, to discover deep observations of the Hebrew and Greek texts which they would not be able to know otherwise. It is of special help to the non-specialist without opportunity for this level of in-depth study.

I recommend it for pastors, and for those without training, that makes observations from the Hebrew and Greek texts very understandable.

HELPS puts this level of knowledge into usable concepts, so that the non-specialist could come to new understandings. These comments apply to both the lexical and the syntactical parts of The Discovery Bible, Old and New Testaments."
Dr. Eugene Merrill – Former professor of Old Testament, Dallas Theological Seminary.
"I have looked through the HELPS markings on The Discovery Bible Old Testament and find them fully reliable.

They ingeniously lead out the fuller Hebrew meanings of vocabulary/near synonyms, verbs, and emphasis shown by the original word order. The determinations of emphasis in the Hebrew text by Gleason Archer and Gary Hill soundly reflect the best of classical and modern scholarship.

This applies also to the presentation of data in the NT portion."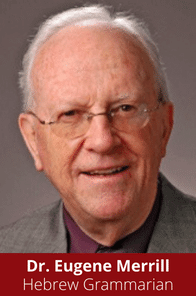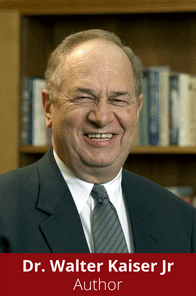 Dr. Walter Kaiser Jr – Previous Academic Dean and Vice-president, Trinity Evangelical Divinity School. Former President, Gordon-Conwell Theological Seminary.
"The Discovery Bible represents a tremendous amount of work and a wonderful help to all Bible readers, starting with those not having the advantage of a seminary education. It is also a great help to pastors and seminary students, full of competent instruction in opening the Hebrew text. This exegetical advantage is often lost because many Bible colleges and seminary curriculums no longer offer this area of study – even shortened at major seminaries that no longer offer Hebrew in any form.

The Hebrew and Greek principles followed in The Discovery Bible are accurate, trustworthy, and pass on the teaching which has come down from the past. The Discovery Bible preserves this rich heritage of classical Hebrew and Greek philology for our day, competently displaying the emphasis (emphatic word order) of the original text, explaining the Hebrew and Greek verbal systems, and setting forth root-based vocabulary definitions (including near-synonyms) of the biblical languages in a way that represents a triumph in Old and New Testament scholarship (a Genesius and company resurrected)."
Dr. Norman Geisler – American Christian systematic theologian, apologist, author, and professor.
" . . . the very valuable aid of understanding the emphasis of the original Greek, not otherwise available to the English reader. It is a very valuable tool for the English student of Scripture." *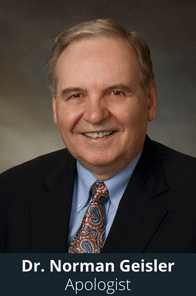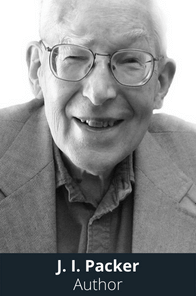 J. I. Packer – American theologian and prolific author.
"The Discovery Bible New Testament is a landmark volume. It makes available to students of the English Bible dimensions of meaning that the Greek verb tenses and word-order convey, but that cannot be expressed in ordinary translations because English is a less subtle language.

The markings in the text and the glossary of synonyms reflect impeccable linguistic scholarship. The system of symbols is easy to learn and the effect of working with the volume is like adding color to black-and-white photos.

The would-be teacher who wants to bring out the full weight of meaning that the New Testament carries now has two choices. One is to spend some years studying Greek, classical as well as New Testament, so as to be able to spot each nuance accurately for oneself. The other is to use The Discovery Bible, and start getting it all right as of now. Gary Hill and Gleason Archer, who devised this precious students' aid, deserve our profoundest thanks." *
*These endorsements are for the original 1987 Discovery Bible New Testament published by Moody Press.
Frequently Asked Questions
Is The Discovery Bible a new translation?
Not quite, it enhances translations. The Discovery Bible puts symbols and highlights onto English versions that already exist. Then when you read them, details from the original Greek and Hebrew stand out and can be applied.
Is The Discovery Bible an app or a hardcopy book?
It's both… technically. Currently, the digital version is available through this site, while the original hardcopy book is no longer in print.
Do I have to install anything to use the app?
Yes. The Discovery Bible is a software you install onto your Windows or Mac device. The installation process is easy and you can get started by signing up for the free trial here.
Where can I get the printed version of The Discovery Bible?
The 1987 printed version by Moody Press is currently out of print. You can find copies on different marketplaces like Amazon and eBay.
Where can I get the digital version of The Discovery Bible?
Right here! You can get started now with the 14 day free trial. Start reading immediately with no need to put in any payment information.
Will The Discovery Bible ever be back in print?
We hope so! We have plans to get TDB back in print, however, this is a long process and we currently do not have a completion date.
Where can I use the Discovery Bible Software?
The Discovery Bible is currently only available on Windows and Mac. A mobile version is in development that will hopefully be available in 2022. At that point, our price will increase, and any upgrade fees charged to current users will be less than the price increase. So it's better to buy now.
What translations are in The Discovery Bible? Will you add more?
Currently, The Discovery Bible Software contains both the NASB and the KJV. We intend to add more in future updates and are currently working on getting the BSB into the software.
Is TDB available in languages other than English?
Not yet, but soon! Development is currently underway to provide The Discovery Bible to those who don't speak English. The languages that will be released first are Spanish, Portuguese, and Chinese, and will hopefully be available in 2022.
Where Can I Donate? Why Would I Donate?
The Discovery Bible is a product of HELPS Ministries, Inc., a 501(c)3 not-for-profit organisation. Software sales and donations enable us to continue the project and make these resources available to those who cannot afford them. They also support other projects like the printed edition of TDB and translations of TDB material. You can make a donation here.